For Sale: Computer Equipment
Apple Powermac G4 MDD 1.25GHz Dual 2GB RAM/Superdrive/410GB HDs - SOLD!
This is about as loaded and ready as the G4 can get. Used only by an industry professional, the original owner, in a non-smoking environment. Dual processors, maximum RAM, two optical drives (including a DVD burner, of course), a very fast dual-link graphics card, and three internal hard drives for a total of 410 GB of drive space. Also has Bluetooth built-in. Runs perfectly. I just upgraded to a Mac Pro, so I'm looking for a good home for this machine.

Specifications:
Dual 1.25GHz G4 processors on 167MHz bus with 256 KB L2 and 1 MB L3 cache per processor
2 GB RAM (4 x 512 MB PC2700U DDR SDRAM)
ATI Radeon 9800 Pro 256 MB VRAM AGP 4x dual-link video card (a very high-end card, and runs two big monitors easily)
Optical drives installed:

Apple Superdrive DVD-RW from the factory
Plextor PlexWriter 24/10/40a CD-RW/DVD-ROM drive in Bay 2

Hard drives installed:

Hitachi DeskStar 180GXP 250 GB 7200 rpm drive
Seagate Barracuda 80 GB 7200rpm drive from the factory
Seagate Barracuda 80 GB 7200 rpm drive (yes, two matched drives plus the 250 GB drive)

Adaptec 7850 SCSI Bus Controller PCI card (and 3 empty PCI slots)
FireWire 800 and 400, USB
10/100/Gigabit Ethernet networking
Apple built-in Bluetooth module
Apple built-in v.92 56K modem

Includes original Apple Pro Keyboard and Mouse (hardly used), original box and manuals, and original install and restore disk (Mac OS 10.3).

Comes in perfect running order with fresh install of Tiger Mac OS 10.4.10 plus Classic and all hardware drivers and utilities. All typical Apple applications also loaded, such as iPhoto, iMovie HD, Mail, Safari, iDVD, iCal, iChat, etc. Also configured with SoftRAID for excellent RAID setup. Ready for work on day one.

Also available at additional cost are my two SCSI scanners to complete the imaging workstation setup: an Epson Perfection 636 flatbed color scanner (600 x 2400 dpi optical, 9600 x 9600 dpi interpolated resolution) with the optional transparency adapter lid, and Polaroid SprintScan 35 Plus high-end color film scanner (12-bit per color, 2700 x 2700 resolution), plus all SCSI cables. I can also sell/transfer my license of Hamrick VueScan to run these scanners.

Let me know if you're interested. E-mail please. I can then answer any additional questions, send screenshots of Apple System Profiler screens, photos, whatever you'd like. Sold as-is.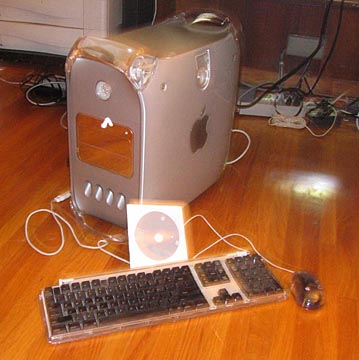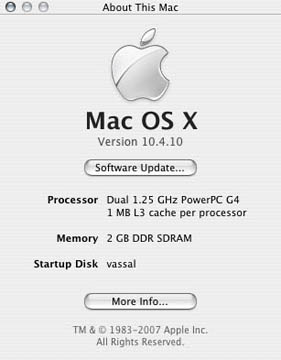 D-Link DSM-G600 Wireless G Network Storage Enclosure - SOLD!
This is a factory-refurbished, sealed-box unit. Hardware Rev. B1. Enclosure, ready to serve as wi-fi access point out of the box. Install an inexpensive IDE drive (not included, starting around $40 from many suppliers) and it's a Network Accessible Storage (NAS) device of up to 250GB (or maybe more, as there are 400GB IDE drives available, if they're supported). Attach another USB drive or two for even more storage on your network. Configurable access security for both the wi-fi and the NAS.

Product Features:

Attach up to two USB 2.0/1.1 drives for additional storage
Gigabit ethernet port
Access point functionality creates a Wireless-G network (also supports B)
Conveniently share documents, files, and digital media
Two high-speed USB ports
From the manufacturer:

D-Link, an industry leader in networking, introduces the MediaLounge DSM-G600 Wireless G Network Storage Enclosure. Connect your own hard drive* to the home or office network and create additional storage space with the DSM-G600 Wireless Network Storage Enclosure. With the DSM-G600, you can conveniently share documents, files, and digital media such as music, video, and photos with everyone on your home or office network. The DSM-G600 can be used with an internal 3.5" ATA/ IDE hard drive, giving you the flexibility of choosing the storage capacity required for your network. And with two additional high-speed USB ports, expand your storage capabilities even further as your network needs grow by adding your own external USB drives*!

In addition, the DSM-G600 also functions as an Access Point. Create an 802.11g wireless network when you attach the DSM-G600 to your wired router.

By adding your own hard drives to the DSM-G600, conveniently store, retrieve, and share digital content with everyone on your home or office network. As a central storage location for data, the DSM-G600 is an organized solution for the network.

Since the DSM-G600 is visible and available to everyone on the network, you can use it to share files or collaborate on projects.

Free up disk space on the computer and organize data on your network with the DSM-G600 Wireless G Network Storage Enclosure!

* Hard Drive not included.

Product Description
With the DSM-G600, you can easily share documents, files, and digital media such as music, photos, and video with everyone on the home or office network. Accessing files over the Internet is also possible with the built-in FTP server. Backup your music, photo, and video collections to the DSM-G600 for safekeeping. Then enjoy the rewards of the built-in UPnP AV media server as you stream digital content to a compatible media player. This feature is highly convenient as it allows you to turn off a computer that would normally be needed for this same function. You can also connect to an existing wireless network in the same way that a laptop would. WPA-PSK and WEP encryption are supported for the safe wireless transfer of your data. Secure, organized, and versatile, the DSM-G600 provides an intelligent solution for ever-increasing network storage needs. Drive Management - Format, Scandisk, e-mail Alerts Indoor Wireless Signal Range - Up to 328 feet (100 meters) Outdoors Wireless Signal Range - Up to 1,312 feet (400 meters) Device Management - Internet Explorer v6 or other Java-enabled browsers Wireless Transmit Power - 15 dBm (32 mW) 2dBi gain External Antenna Type - Single Detachable Reverse SMA LEDs - Power, Hard Disk Drive Full, LAN, USB, WLAN System Requirements - Wired & Wireless 802.11b/g Network, 1GHz Processor, 512MB Memory, 200MB Hard Disk Space, Ethernet Adapter with TCP/IP Protocol Installed, Windows XP SP2 or Windows 2000 SP4 Internet Explorer v6 Dimensions - Width 7 x Depth 8 x Height 2.5 inch Weight - 1.7 pounds

Works with Macintosh OS X. Sold as-is.
SyQuest 44/88/200 MB Drive and media - $60.00 obo
External SCSI removeable-media drive for the Macintosh. This drive will read, write and format 44, 88 and 200 MB cartridges. The APS SR-2000 case includes active termination (DaTerm), dual SCSI connectors, selectable SCSI ID, external AC power supply. Package includes three 44MB cartridges, thre 88MB cartridges, and three 200MB cartridges for nearly 1GB of removeable storage. APS StackIt feet, SCSI Conduit and AC Conduit available cheap for those with multiple APS SR-2000 external drives. Was working when last used, years ago. Sold as-is.
Contact me if interested.

[top of this page]


Copyright © 2005-2007 John Turkel. All rights reserved.

Last Modified October 22, 2007.

http://www.yoy.com/

Visit [an error occurred while processing this directive] since August 3, 2007.